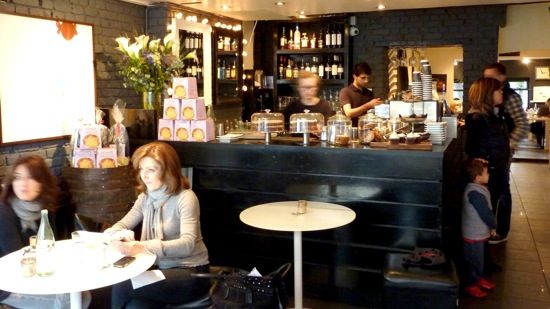 Where?
Neatly positioned on the New King's Road, a stone's throw from Parsons Green tube station, you'd be forgiven for thinking that Barossa is another mainstream cafe.  Not so. An independent Coffee House & Australian Kitchen, the understated facade of the cafe belies its character.
How eggcellent is it?
My first encounter was the result of months of sibling raving and suspicions that said sister might have over-egged the pudding, so to speak.  I must say, however, I was pleasantly surprised.  The eggs were cracking as promised with a Bondi Brekkie feast complete with smoked bacon, corn fritters and poached or scrambled eggs.  Now I'm a regular, I like to mix up the egg treats – whether benedict, florentine,or royale, I am yet to be disappointed.
Healthy alternatives?
I'm a particular fan of the sourdough toast which is an unusual addition to the fry up, giving it a healthier taste you wouldn't associate with a naughty treat.  If you're looking for something lighter, there are various options on offer, from avocado on toast with tomato and feta, to toasted banana bread or granola with greek yoghurt and blueberry compote.
Scrummy lunches?
If it's lunch you're after, you're spoilt for choice.  With a delicious range of all day sarnies, from the classic BLT or a sausage feast, to crab cakes with chilli and lime or the superfood salad with chickpeas, quinoa and feta, there's something for everyone.
Tea for two?
Thirsty for coffee or tea – you're in for a treat.  A range of loose leaf teas are served in funky see-through tea-pots which sit atop your mug and are activated by pressing southerly while coffee beans are sourced by Caravan Coffee, roasted by hand in small batches daily and stamped with a frothy heart or leaf.  
Sweet tooth?
For a sweet accompaniment you can choose from a fluffy freshly made muffin, a slice of red velvet cake or other fondant fancies a guilt-ridden glutton might term 'terribly light'.
Best bits?
Best features of Barossa? The large glass fronted facade, the delightful window seat, the range of artwork on sale and the fantastically friendly staff who give their local competitors a run for their money. If that isn't enough to tickle your fancy, there's also the option for hire for after-hours events, lunches, meetings and parties for up to 70, complete with canapé menus and even a wedding cake package. Tick, tick and tick.
Contact:
Address: 277 New Kings Road Fulham, London, SW6 4RD
Tel: 0207 751 9711               
Nearest tube: Parsons Green