1. Circulo de Bellas Artes Roof Terrace, Gran Via
Located on Calle de Alcala just off Gran Via, the roof terrace at Circulo de Bellas Artes is a not to be missed. If there's one place you should take a visitor, it's here. A spectacle extraordinaire, the wow factor is on a par with stepping onto the observation deck of the Empire State Building.
This is a truly panoramic experience, with views stretching over the cityscape as far as the eye can see. The terrace is vast with various sub-sections, from the chic canopeyed restaurant hub and sophisticated high-tabled drinks area to a chic sunken zone with low-lying sun loungers and fluorescent mushroom-like tables.
If you come before 9:30pm you'll avoid queuing and catch the sunset. At 3 euros a pop, an evening a-top Circulo de Bellas Artes is a steal.
Contact:
Address: Calle de Alcala, 42, 28014, Madrid
Nearest Metro: Banco de Espana
Tel: 913 60 54 00
2. Cibeles Root Terrace, Banco de Espana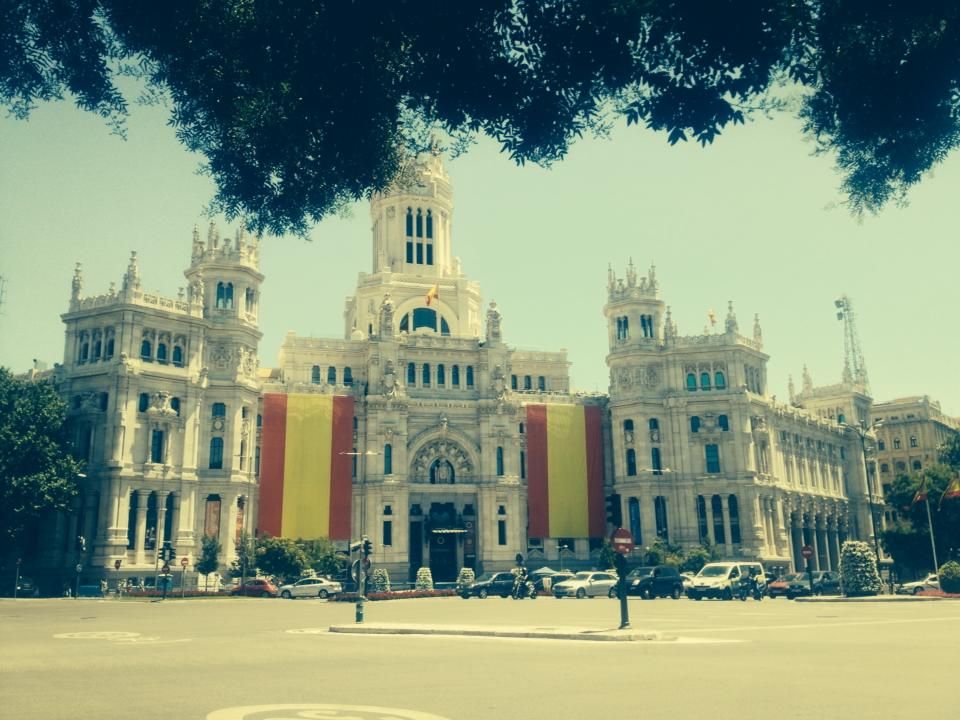 Cibeles Palace roof terrace comes a close second. Standing majestically in front of the famous Cibeles Fountain, it oozes gravitas and splendour.
The Palacio Cibeles Restaurant, on the sixth floor, has pretty lovely views but the eighth floor is something else. With horizon wide panoramas of the city from a 70 metre high look-out point, this is well worth a visit. The terrace is top-end chic, with striking black surrounds and dim-lighting which gives it an exclusive edge over some of its counterparts.
If you count yourself a bit of a sophisticat, give this a whirl.
Contact:
Address: Plaza Cibeles 1, 28014, Madrid
Nearest Metro: Banco de Espana
Tel: 917 40 06 68
3. La Terraza de Óscar at Room Mate Óscar, Chueca
Situated on Plaza de Vázquez de Mella, between Gran Via and Chueca, the rooftop bar a-top the swanky Room Mate Óscar hotel is a must. If you're struggling to find it, you can't miss the bold, over-sized sign hanging from its exterior which reads: "Do you want to sleep with me?"  How continental.
With comfy white cushions, sun-loungers spread around to laze on and drinks ranging from Gin and Tonics to Mojitos, you'd have to try pretty hard not to like this place.
And while it's a top of the range spot with a distinctly exclusive vibe to it, it's not overly expensive. Chic, light and airy, Room Mate Óscar mixes the luxurious and unpretentious with ease.
Contact:
Address: Plaza de Vázquez de Mella, 12, 28004, Madrid
Nearest tube: Banco de Espana/Gran Via
Tel: 917 01 11 73
4. ME Hotel Roof Terrace, Las Letras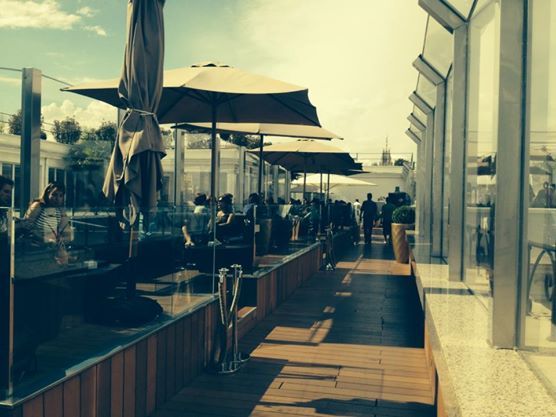 Think understated chic under the stars. Not unlike its glamorous Covent Garden counterpart, the roof terrace at the ME Hotel in Plaza Santa Ana is a super stylish hang-out with views to die for. With wooden decking lining the floors, stylish glass surrounds and chic taupe umbrellas, it has an air of exclusivity which more than justifies the 10 euro entry fee by night.
Though previously a little put-off by the latter, it's a small price to pay for the ambience and complimentary cocktail of your choice.
If you really can't bring yourself to shell out, the terrace is free by day and is a lovely spot for afternoon digestifs after lunch at Lateral southward.
Contact:
Address: Plaza de Santa Ana, 14, 28012, Madrid
Nearest Metro: Anton Martin
Tel: 902 14 44 40
5. St Anton Market, Chueca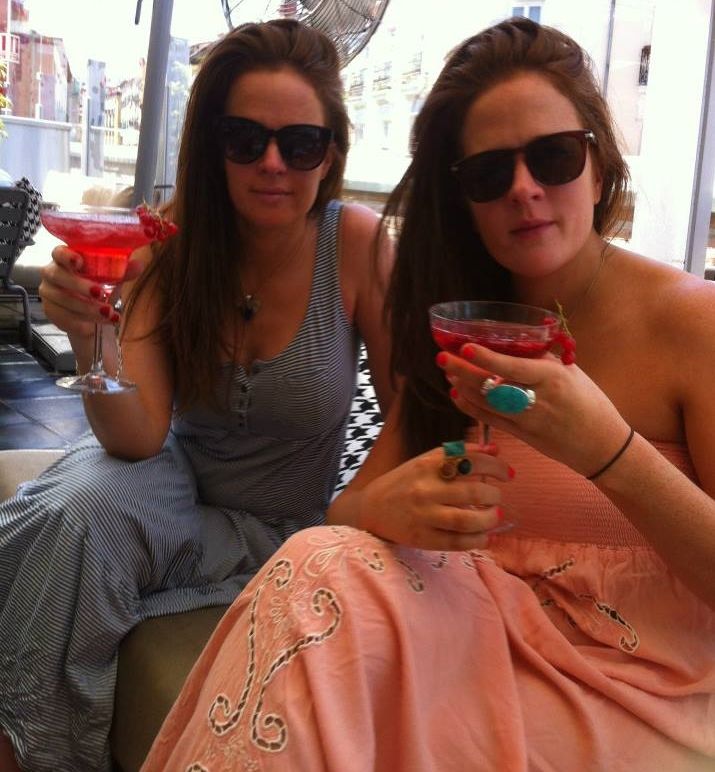 My sister's favourite of the lot, this roof terrace combines markety buzz and casual chic.  Located on the top floor of Mercado San Anton (one of Madrid's most authentic tapas markets), it's an eclectic mix of flora, fauna and cocktails set in the heart of Madrid's gay district.
If you don't fancy the restaurant sitting alongside the bar, or sampling the market treats below, there are top of the range restaurants a-plenty southward. If you like character, you'll love this.
Contact:
Address: Calle Augusto Figueroa, 24. 28004, Madrid
Nearest metro: Chueca
Tel: 91 330 07 30
6. El Corte Ingles Roof Terrace, Callao
Feast your eyes on this one.  The gourmet section of the well-known department store has moved skyward, where it combines forces with a variety of bars and restaurants. From Japanese and American to tapas and tortellini, this is a gem of a find with spectacular views of the city to boot. Whether you're after a full-blown meal or a light snack after a day's shopping in Sol, this is a wonderful spot to unwind. Not often you find similar offerings atop department stores in London…
Contact:
Address: Plaza de Callao, 2, 28013, Madrid
Nearest Metro: Callao
Tel: 913 79 80 00
7. Rooftop Bar, Hotel de Las Letras, Gran Via
Located in the heart of Madrid on Gran Via, this is a classy 4* Hotel with a twist. As its name suggests, Hotel De las Letras has a literary thread, with walls decorated with silk-screened texts of different authors. If poems and short stories aren't your bag, venture up to the 7th floor rooftop bar, otherwise known as Ático De las Letras and discover a relaxed, jungular wilderness overlooking the city heights.
The decor is understated but snazzy, with slatted wooden flooring and high neon green perspex tables. Food includes a range of salads, tapas, grilled sardines and beef tartare. There's also an impressive range of booze on offer with varying types of rum, vodka, gin, brandy, whisky and champagne as well as mojitos, caipirinhas or a range of fresh juices.
Come nightfall, you can enjoy the starry lights of the cityscape alongside a live DJ who plays into the wee hours. Open from 13:00 to 12:30 Sundays to Wednesdays and 13:00 to 03:00 Thursdays to Saturdays, this is a great spot to enjoy a break from the city.
Contact:
Address: Calle Gran Vía, 11, 28013, Madrid
Nearest tubes: Gran Via/Sevilla
Tel: 915 23 79 80
8. Hotel Urban Roof Terrace, Sevilla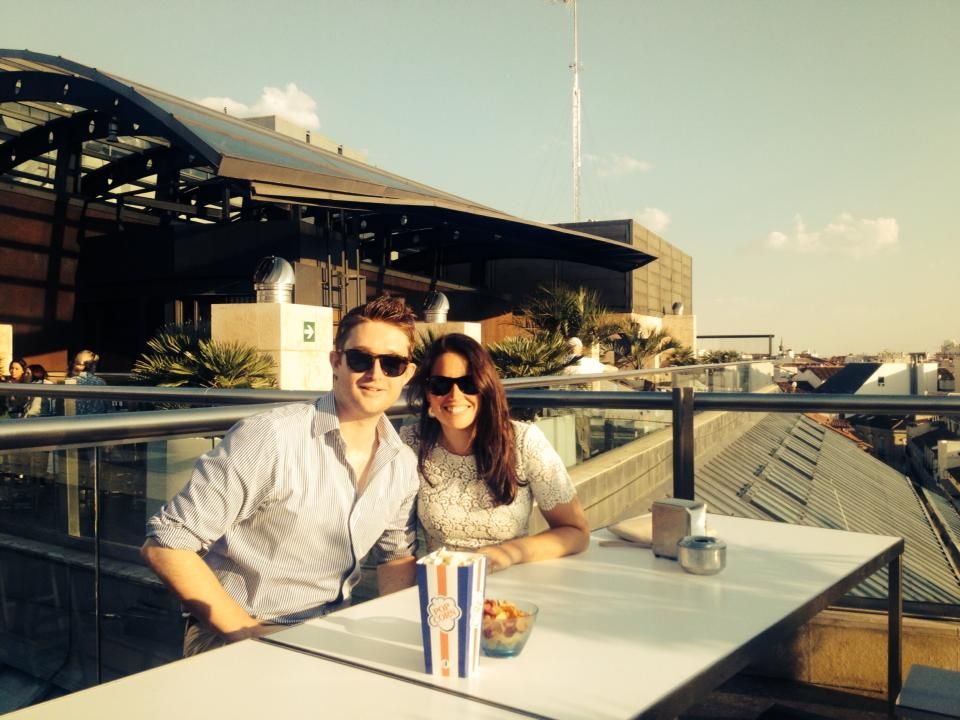 A stone's throw from Gran Via, Hotel Urban is a minimalist 5 Star experience worth a visit. The roof terrace is understated, modern chic, with white seating and views over Madrid's city centre. While the outlook is a little more 'urban' and less far-reaching than some of its counterparts, this is an elegant spot with a uniquely metropolitan twist.
The menu is extensive with generous lashings of gin typical of Madrid and the drinks are served with popcorn – a novel touch for a novel experience. Open from around 8pm, this is a lovely spot for a pre-dinner drink.
Contact:
Address: Carrera de San Jerónimo, 34, 28014, Madrid
Nearest Metro: Sevilla
Tel: 917 87 77 70
9. Ildefonso Market, Malasana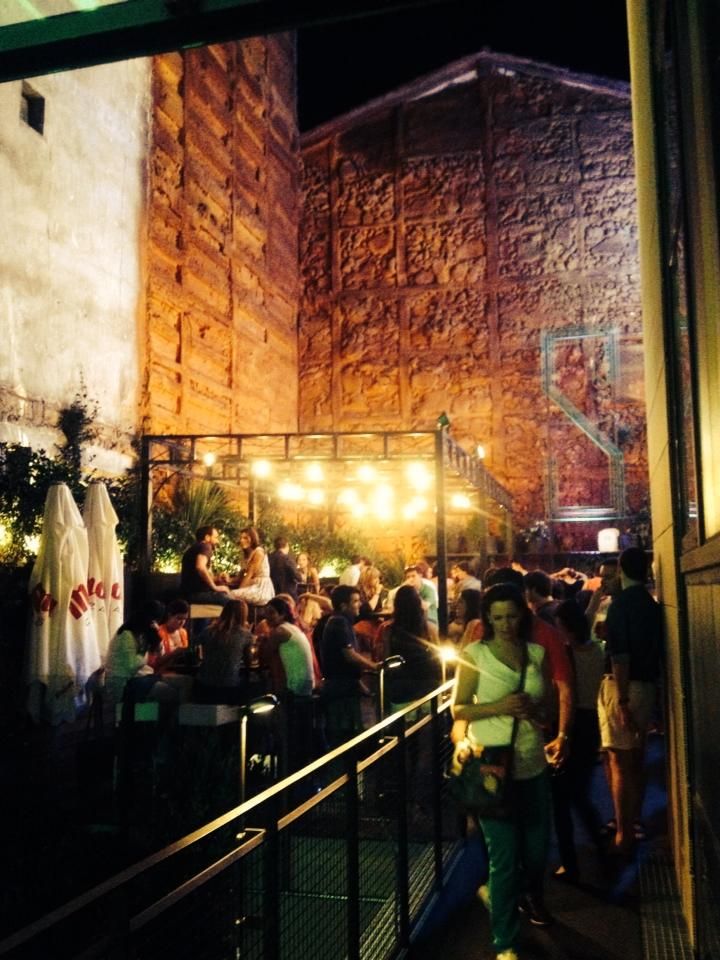 This new market in Tribunal is a must-see.  While sampling the culinary delicacies here is the main feature, the roof terrace on the second floor with its outdoor watering system is super buzzy and fun.  The only reason why this ranks lower than the others is because there is no view – but the atmosphere is second to none.
Grab yourself a mouth-watering burger, a plate of pulpo and a glass of vino for 2 euros and you're in bliss.  Throw a chocolate crepe in for good measure and life really doesn't get much better.
Contact:
Address: Calle Fuencarral, 57, 28080, Madrid
Nearest metro: Tribunal
Tel: 915 59 13 00