Lateral, Santa Ana
What's Lateral?
One of the most well-known tapas joints in Madrid, Lateral's terrace in Plaza Santa Ana is a truly pleasurable place to while away an evening. A top of the range chain with a distinctly 'unchainy' feel, Lateral is located throughout Madrid, including the popular Calle Fuencarral in Malasaña. Understated, chic and well-run, Lateral is great value with a diverse choice of tapas to boot.
Lateral, Malasaña
What of the food?
While it may be known for its top quality Tortilla, there are many other delicious dishes to choose from, from the Murcia Blood Sausage (a personal favourite a bit like black pudding), the OxTail, the Avocado and Salmon or the Pork with Melted Brie. Add a Tinto de Verano or a generously sized Gin and Tonic to the mix and you have the perfect feast.
Lateral, Arturo Soria
What's the decor like?
If al fresco's your cup of tea, this is the crème de la crème. Slatted wooden tables sit beneath a discrete cream canopy with flame heaters to keep you snuggly. With buzzers table-side, there's no escape for lazy waiters who are, quite literally (or perhaps more aptly, laterally), at your beck and call.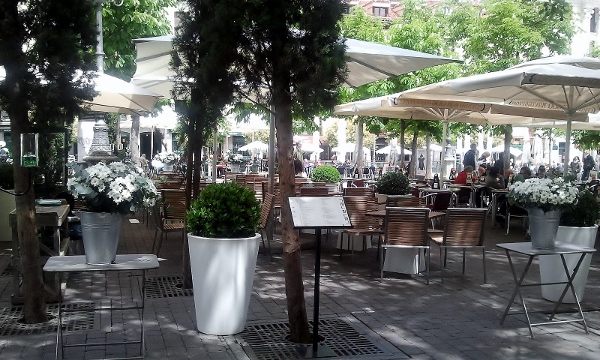 Lateral, Santa Ana
What's nearby?
If tapas isn't enough for you, you can chose from an array of desserts and cocktails. Situated in the heart of possibly the prettiest square in Madrid, there are bars aplenty for after dinner digestifs or rooftop glamour atop the famous ME Hotel (next door).
In short…
Well-located, scrumptious and beautiful, this is a great stop for visiting friends and family.
Contact:
Address: Plaza Santa Ana, 12
Tel: 914201582
Nearest Metro: Anton Martin / Sol