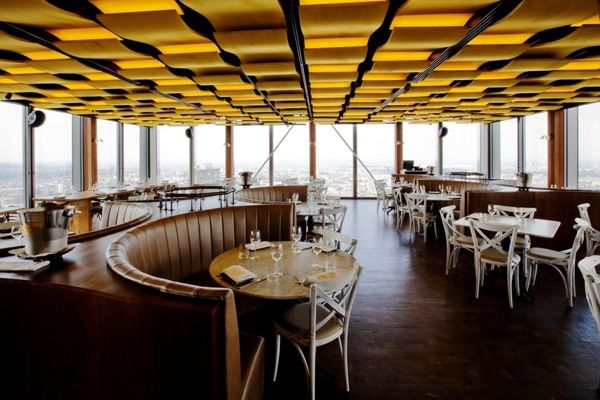 Balancing atop the 40th floor of London's Heron Tower, Duck & Waffle's unique food and panoramic views give other city haunts a definite run for their money.
Inspired by broad European and British influences, the restaurant offers feast, fizz and fun 24/7 – from breakfast, brunch, lunch, dinner through to late night menus.  And when I say 24/7 – it literally is open all night.  The all-day menu is served from 11am to 2am; the late night menu, from 2am until 6am; and breakfast, from 6am to 11am – hardly your average post-Disco venue.
With prices being generally medium-range (brunch or breakfast averages at about £20-£25 per head), it's pretty affordable given its vertical appeal and designer vibe.  Though tempting to opt for your typical choices for breakfast or brunch, the restaurant's name-sake dish – the duck and waffle – really is a must try.  Consisting of confit duck with fried duck egg and mustard maple syrup, it might sound stomach churningly rich, but is a real treat for the taste buds and a great sharing plate if you want to balance it off with your standard fry up; with other unusual dishes including BBQ spiced crispy pig ears, bacon wrapped dates, spicy ox cheek doughnut and pollock meatballs with lobster cream.
Finally, if you're on the hunt for a great private room with outstanding views, the restaurant has possibly the best in the capital.  With capacity for 20 people and a minimum spend of £1,000, it's pretty reasonable value when all's said and done.
So if you're not vertigo afflicted and want to experience unrivalled, panoramic views with dishes and choices to match, Duck and Waffle it up.
Contact
Address: The Heron Tower, 110 Bishopsgate, London EC2N 4AY
Phone: 020 3640 7310